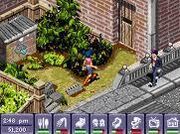 Urbania
is one of the areas of
Miniopolis
on Urbz for the GBA and DS. It is first accessible at the end of level 1. All the goals on Mission 2 take place here.
Urbania also shares it's name with an Italian municipality of the same name in the Marche region of Italy. This is coincidental however and the two have no correalation with each other apart from namesake.
Ad blocker interference detected!
Wikia is a free-to-use site that makes money from advertising. We have a modified experience for viewers using ad blockers

Wikia is not accessible if you've made further modifications. Remove the custom ad blocker rule(s) and the page will load as expected.