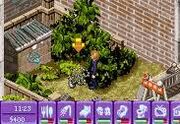 Club Xizzle
is one of the rooms on Urbz for the GBA and DS. You can often find characters of different rep-groups here. You can also find characters which aren't in any of the rep-groups. This is also the only building with two entrances which lead to different parts of the town. It is unknown how it is one building inside but two outside.
Ad blocker interference detected!
Wikia is a free-to-use site that makes money from advertising. We have a modified experience for viewers using ad blockers

Wikia is not accessible if you've made further modifications. Remove the custom ad blocker rule(s) and the page will load as expected.